MORTAL KOMBAT ARMAGEDDON LATEST GAME INFORMATION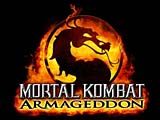 Introducing Mortal Kombat: Armageddon --- the latest chapter in the award-winning, best-selling video game fighting franchise. With the most complete Mortal Kombat roster ever, including every character from the Mortal Kombat fighting universe, revolutionary Create-A-Fighter and Create-A-Fatality modes, plus a brand new Konquest mode, Mortal Kombat: Armageddon promises to be the most complete, intensely lethal, fighting experience ever!

Select from more than 50 characters from the Entire Mortal Kombat Fighting Universe: From Liu Kang to Shang Tsung to Shao Kahn, Mortal Kombat: Armageddon will feature more playable fighters than any other Mortal Kombat game to date.

All-New Customized Kreate-A-Fighter Mode: For the first time ever in a Mortal Kombat game players will be able to use a Kreate-A-Fighter feature to create and define their fighter?s look, abilities and personality with a deep level of customization and take that unique fighter online.

Unique Kreate-A-Fatality System: Fans now have the ability to create their own custom fatalities by stringing together a series of attacks via a series of button combos; those that prove worthy can take their very own death moves online to showcase to the world.

Entirely Revamped & Improved Konquest Mode: What formally served as a training mission has evolved into a full-blown adventure.

Expanded Online Features: Improved Responsiveness, Deeper Customizing, Expanded Lobby Options and much more.



<< Back to our Mortal Kombat Armageddon Guide




MK Nightmares Facebook
MK Nightmares Twitter

MK Nightmares 2.5

---

Mortal Kombat Nightmares is the premiere source for all that is Mortal Kombat. Coverage of the entire MK series. Welcome to Our World of Mortal Kombat, we are your Nightmares.