MORTAL KOMBAT DECEPTION LATEST GAME INFORMATION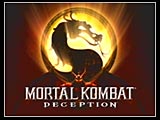 In the final events of Mortal Kombat: Deadly Alliance, Raiden's warriors who were meant to protect the six fictional universes named realms are killed by the Deadly Alliance (Shang Tsung and Quan Chi), who attempted to conquer the realms. With Raiden defeated, the Deadly Alliance turns on each other. When Quan Chi wins, Dragon King Onaga, the former emperor of the realm of the Outworld, appears to regain his power. Raiden awakes and then unleashes all his powers in a colossal explosion that but apart from making both members of the Deadly Alliance and himself be affected, has little effect on Onaga.

Onaga now seeks to use six artifacts called Kamidogu (literally "Tool of God"), which are able to destroy the realms. Those fighters not killed in the battle against the Deadly Alliance now stand against Onaga and his supporters. The latter include a fictional horde known as Tarkatan led by Baraka, one of the characters who starred in Mortal Kombat II. Other enemies include the former defenders from the realms, who were resurrected by Onaga and are under his control.

In the story explored in Konquest mode, a young man named Shujinko is deceived into spending his life collecting the Kamidogu for Onaga, who uses the guise of an emissary of the Elder Gods, the beings who created the realms, named Damashi. Onaga reveals his identity and intentions after Shujinko has gathered all the Kamidogu. Shujinko, led to believe he was working for the greater good, joins the others opposing Onaga.

Delivering the most complete fighting experience and progressing the lethal intensity which the franchise has been known for since its 1992 debut in arcades, Mortal Kombat: Deception is set to revolutionize the fighting game genre. With unlimited online competition, Mortal Kombat: Deception features multiple fatalities per character; multi-tiered interactive backgrounds and extensive new game modes. Plus, for the first time ever, an enhanced free-roaming Konquest mode, an action/strategy board game and a unique puzzle game serve to compliment the improved fighting mode that has established the Mortal Kombat franchise as the ultimate fighting game of all time.

Long before Liu Kang had won the Mortal Kombat Tournament in Earthrealm, Shujinko had begun his quest to retrieve the Kamidogu for the Elder Gods...

Now an ancient evil has returned from beyond death and threatens the very existence of the realms.

Will the champion of the Elder Gods have the power to defeat this threat borne of deception?

ONLY YOU CAN DETERMINE THE FUTURE OF THE REALMS.



<< Back to our Mortal Kombat Deception Guide




MK Nightmares Facebook
MK Nightmares Twitter

MK Nightmares 2.5

---

Mortal Kombat Nightmares is the premiere source for all that is Mortal Kombat. Coverage of the entire MK series. Welcome to Our World of Mortal Kombat, we are your Nightmares.