MORTAL KOMBAT VS DC UNIVERSE LATEST GAME INFORMATION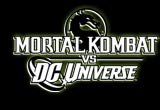 When a cataclysmic force merges conquerors from two universes, conflict is inevitable. Kombat forces friends to fight, worlds to collide, and unlikely alliances to be forged. In order to save all they know, the heroes and villains of Mortal Kombat must wage war against the combined might of the DC Universe. How can either side prevail when rage blinds them to the dark threat poised to destroy them all?

For the first time ever Scorpion, Sub-Zero and the Mortal Kombat warriors battle with Batman, Superman and other popular DC Universe super heroes. Choose your side and challenge your opponents with an all-new fighting system including Freefall Kombat and Klose Kombat along with dynamic multi-tiered environments. Plus, pick your favorite character from Mortal Kombat or DC Universe and pursue a fighting adventure in the new single player mode with an intertwined storyline and two unique perspectives.

CHOOSE YOUR KOMBATANT!
Kombat forces friends to fight, worlds to collide and unlikely alliances to be forged. Mortal Kombat warriors and DC Universe heroes engage in battle for the first time on the Xbox 360 and PLAYSTATION3 computer entertainment system.

SIGNATURE ATTACKS
Each character has specific moves to take down opponents in his or her own signature style. In addition each character will feature distinct finishing moves, tapping into the true Mortal Kombat experience.

ALL-NEW FIGHTING MECHANICS
For the first time in Mortal Kombat history, players can face off with two all-new fighting mechanics, Freefall Kombat and Klose Kombat. Freefall Kombat allows players to battle in mid-air while falling from one arena into the next. Klose Kombat gives the player a brutal up-close view of the fight.

NEW SINGLE PLAYER MODE
Players choose their storyline experience with either the Mortal Kombat or DC Universe. The unique storyline intertwines both the Mortal Kombat and DC Universes and characters into an exclusive dynamic fighting adventure.

THE ULTIMATE FIGHTING ARENAS
Players will face off in various iconic arenas like Metropolis and Gotham City from the DC Universe side and Hell and Graveyard from the Mortal Kombat side, as well as several never-before-seen combo arenas that blend the two universes together!

TAKE THE BATTLE ONLINE
Players will have the ability to choose sides, challenge friends and take the fight online!



<< Back to our Mortal Kombat vs DC Universe Guide




MK Nightmares Facebook
MK Nightmares Twitter

MK Nightmares 2.5

---

Mortal Kombat Nightmares is the premiere source for all that is Mortal Kombat. Coverage of the entire MK series. Welcome to Our World of Mortal Kombat, we are your Nightmares.