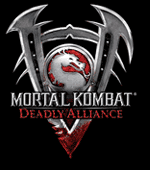 MORTAL KOMBAT DEADLY ALLIANCE - LATEST INFORMATION

Completely NEW Fighting System. Each warrior has three unique fighting styles including hand-to-hand and deadly-weapon combat adding a whole new strategy to Mortal Kombat fighting.

Full 3D movement with extremely realistic fighting effects. Ripped clothing, bruises, sweat-dripping and blood.

Brutal Fatalities. A Mortal Kombat favorite. They're back with gruesome and bloodly detail first time seen on next-generation systems.

Character-specific "special attacks" such as Scorpion's deadly spear move.

New and old favorite characters. Scorpion, Subzero, Raiden, Jax, Sonya, Reptile, Shang Tsung, Quan Chi, Cyrax, Kung Lao, Johnny Cage, Kano and more. Plus new characters which include Frost (Female SubZero), a drunken style fighter (unnamed), Blind Kenshi, Drahmin, Mavado, Moloch and Li Mei. Over 20 total characters!

Ominous and exquisitely detailed, interactice environments. More than 20 fighting environments in all.

Multiple Play Modes. Arcade Mode, VS Mode, Expanded Practice Mode, Test Your Might and Test Your Site.




MOVES | FATALITIES | SECRETS | KRYPT GUIDE | STORY | INFO | MKDA MAIN





MK Nightmares Facebook
MK Nightmares Twitter

MK Nightmares 2.5

---

Mortal Kombat Nightmares is the premiere source for all that is Mortal Kombat. Coverage of the entire MK series. Welcome to Our World of Mortal Kombat, we are your Nightmares.